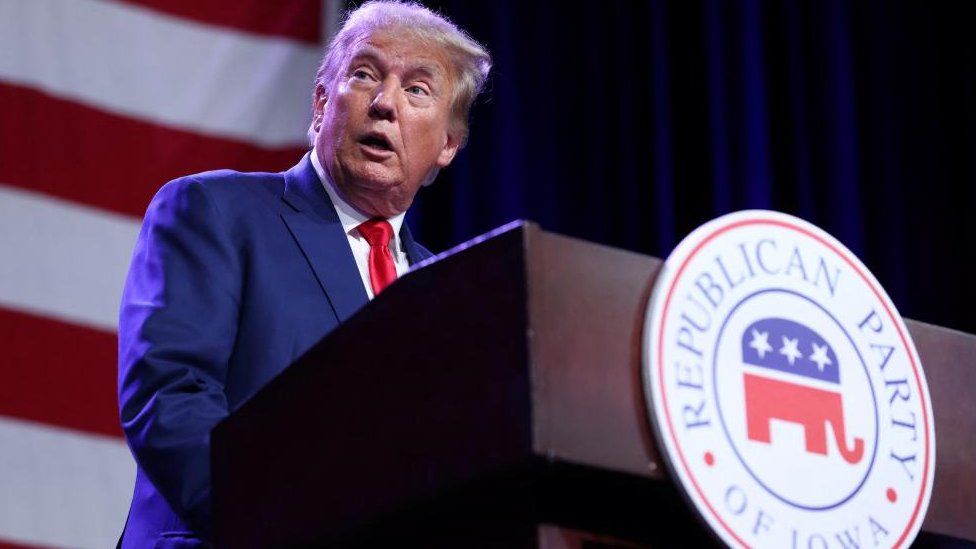 Republican presidential candidates, including chief rivals Donald Trump and Ron DeSantis, gathered for the first time in the 2024 White House race at the Party's annual Lincoln Dinner fundraiser in Iowa. Each of the 13 candidates had 10 minutes to address the audience, which holds significant influence over the party's nominee selection.
Trump, who remains the frontrunner despite mounting legal challenges, asserted that he is the sole candidate capable of winning the upcoming election, implying that the legal charges against him are politically motivated. He maintained his intention to run for the presidency even if convicted.
The fundraiser took place amidst new charges against Trump related to his handling of classified files, further complicating his legal situation. Nonetheless, he continues to lead in opinion polls with 52.4% support, followed by Florida Governor DeSantis at 15.5%.
The event saw intense moments, with Vivek Ramaswamy delivering a powerful performance and Will Hurd facing strong backlash for suggesting that Trump's presidential bid was an attempt to avoid legal consequences.
Iowa marks the first state where the process of narrowing down the field of candidates begins, leading to the selection of a representative from each major party for the November 2024 election.
Other notable attendees at the event included South Carolina Senator Tim Scott, former UN ambassador Nikki Haley, and former Vice-President Mike Pence.
While DeSantis faced criticism over new education standards in Florida, Scott emphasized the true horrors of slavery, gaining momentum in local Iowa polls.
Trump's support in Iowa waned as a state senator switched allegiance to DeSantis after Trump criticized Governor Kim Reynolds for remaining neutral in the race.
Despite controversies and legal troubles, Trump's lead in the Republican race remains strong as the candidates seek to secure the nomination for the 2024 presidential election.