World
26 people killed after overloaded ferry capsizes
Tragic incident caused by Typhoon in Philippines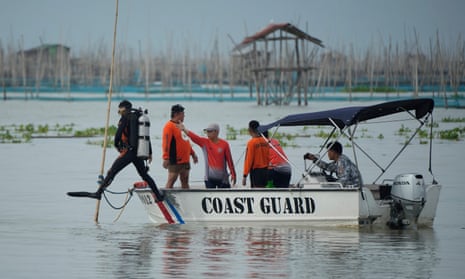 At least 26 lives have been lost, and 40 individuals were rescued following a tragic incident where a ferry capsized in the Philippines. The distressing event occurred during the aftermath of Typhoon Doksuri, which wreaked havoc in several parts of the country.
The exact number of passengers on board the M/B Princess Aya, which overturned in Laguna de Bay, Rizal province, remains unclear. The unfortunate incident unfolded merely 46 meters from the shore, shortly after the boat departed from a wharf in Binangonan, en route to Talim island. According to authorities, the boat tilted and its outrigger broke when passengers rushed to one side amidst strong winds, leading to its capsizing.
Rescue efforts were promptly initiated by the police in Rizal, along with the coast guard and other local authorities. Regrettably, 26 people lost their lives in the tragedy, while 40 others were successfully saved.
Search and rescue operations resumed after a temporary suspension, with authorities determined to find any possible survivors. Coast guard Rear Adm. Hostillo Arturo Cornelio addressed the media, expressing the need for a thorough investigation into the incident.
It was revealed that the ferry, designed to carry a maximum of 42 passengers and crew members, was overloaded at the time of the accident. Investigators are also looking into reports that some passengers were not wearing life vests as required by safety regulations.
Given the uncertainty surrounding the exact number of individuals on board, there is a possibility that more people may have been on the boat during the tragic event. The coast guard released a video showing rescue teams retrieving a body from the lake, highlighting the magnitude of the catastrophe.
Typhoon Doksuri had previously caused extensive damage in the northern Philippines, along with heavy monsoon rains in various regions. The storm's impacts extended to Taiwan, leading to power outages and the closure of businesses. As it approaches southeastern China, authorities are bracing for extreme winds with speeds reaching 191 km/h (118 mph).
The ferry capsizing added to the death toll from a week of stormy weather across Luzon, with more than 30 fatalities reported. The typhoon's onslaught resulted in landslides, flooding, and fallen trees, leading to the displacement of thousands of people.
During Typhoon Doksuri's onslaught, sea travel was suspended in numerous ports, leaving many passengers and cargo trucks stranded. The no-sail orders were eventually lifted as weather conditions improved in various areas.
Coast guard Rear Adm. Armand Balilo confirmed that the capsized boat had set out after the no-sail order was lifted for Binangonan town. The incident has sparked sorrow and calls for a thorough investigation into the circumstances that led to the tragic loss of lives.